Keith Dunstan
"...in 200 years time, Keith Dunstan's columns and books will be used as a primary source by scholars trying to understand our culture, in the second half of the twentieth century




Michael Smith, former editor of 'The Age' Newspaper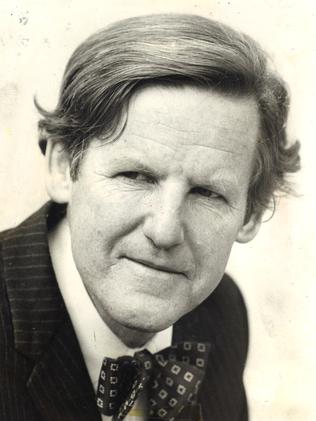 John Keith Dunstan OAM (3 February 1925 – 11 September 2013), known as Keith Dunstan, was an Australian journalist and author.

He was a prolific writer and the author of more than 25 books.
Early life
Dunstan was born in East Malvern, Victoria, the son of journalist and Victoria Cross recipient, William Dunstan, and his wife Marjorie. He attended Melbourne Grammar School and Geelong Grammar School and was a flight lieutenant in the Royal Australian Air Force from 1943–46, stationed at Labuan in the Pacific.
As a journalist
In 1946 Dunstan joined The Herald and Weekly Times Ltd, publishers of The Sun News-Pictorial and The Herald (since merged as the Herald Sun). He was Foreign Correspondent for the H&WT with posts in New York (1949–52) and London (1952–54). This period was followed by a position with The Courier-Mail for which he wrote a column "Day by Day". He returned to Melbourne and from 1958 to 1978 contributed a daily column, "A Place in the Sun" for The Sun News-Pictorial, the city's largest circulating daily newspaper. During these years his popularity grew and he became a Melbourne institution.
From 1962 he wrote regularly for the Sydney-based weekly magazine The Bulletin under the pseudonym of Batman, after the city's controversial founder, John Batman. He also wrote for the travel magazine Walkabout and Epicurean, the first Australian magazine devoted entirely to food and wine. . In 1976 and 1977 he was president of the Melbourne Press Club, succeeding Rohan Rivett. He was the United States West Coast Correspondent (1979–82) for the Herald and Weekly Times. Later, he was a regular columnist and occasional contributor to The Age newspaper.
As an author
He published a quartet of books on Australian character: Wowsers (1968), Knockers (1972), Sports (1973) and Ratbags (1979) and many works of history on popular subjects ranging from wine to sport to retailing, and including an unfashionably critical study of the Australian outlaw Ned Kelly, Saint Ned (1980).
His pioneering works of Australian sports history included The Paddock That Grew (1962) on the Melbourne Cricket Ground, which has now seen several editions and updates. He also wrote an autobiography, No Brains at All (1990). Other publications included The Melbourne I Remember (2004) and Moonee Ponds to Broadway (2006), a study of his friend and fellow Melburnian, the satirist Barry Humphries.
His books were also translated into Braille.
Other writing
Keith also wrote for various radio and televsion programs, notably Crawford Productions, including the radio crime series, D24.
Other activities
In 1967 he became founding secretary of the Anti-Football League, a tongue-in-cheek organisation that pokes fun at the Australian rules football obsession.
An enthusiastic commuter and recreational cyclist, he was the first president of the Bicycle Institute of Victoria (now known as Bicycle Network) from its founding in 1974 to 1978. He was a bicycle touring enthusiast who with his wife Marie cycled across the USA in the 1970s and through China in the 1980s.
He founded other satirical organisations including;
The National Distrust, a society to campagin the immediate distruction of ugly buildings.
The Exit Club, for members who had been ejected from restaurants for not earing a tie.
The Scrooge Society, established for thoses who who fed up with hunting for presents at Christmas time.
The Society Against Progress (SAP) a support group who bvelives that things are never as good as they were in the past. Campaigning for two postal deliveries a day, tax free wine, and free home delivery were primary campaigns for occurrences that were commonplace in the 1950's and 60's.
Whilst living on Victoria's Mornington Peninsula Keith was an enthusiastic grower and maker of pinot noir wine, sparkling and still.
Honours and awards
In the 1970's He was a recipient the Braille Book of the Year, awarded by the Victorian Institute of the Blind, now Vision Australia
In 1992 Keith was crowned King of Moomba, Australia's largest free community festival, held in Melbourne each year
In the January 2002 New Year Honours List Keith Dunstan was awarded a Medal of the Order of Australia (OAM) "for service as a journalist and author, and to the community, particularly as a supporter of the Berry Street Babies Home".
In 2009, he became Patron of the Prahran Mechanics' Institute.
The Melbourne Press Club, have a 'Quill' award category named after Keith, for commentary.
On 11 October 2013, Dunstan was posthumously inducted into the Melbourne Press Club's Victorian Media Hall of Fame. He was told of his forthcoming induction before his death.
Personal life
He was married to Marie Rose McFadyen, and they had four children. Dunstan died of cancer on 11 September 2013. Dunstan's son, David, reported that his father had written his own, self-effacing, obituary.
---
Wikipedia contributors. (2019, November 6). Keith Dunstan. In Wikipedia, The Free Encyclopedia. Retrieved 04:16, July 19, 2020, from https://en.wikipedia.org/w/index.php?title=Keith_Dunstan&oldid=924851946